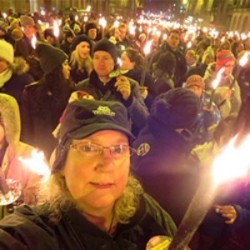 Lori McAlister
Office and Program Manager
What makes you come to work everyday?
I am a networker by nature. Working for the Lincoln Arts Council allows me to engage both creatively and administratively on behalf of the arts and artists in Lincoln. It is a great fit for my strengths and interests. Seeing people and projects come together is very gratifying. It is fun to make a positive difference in the world!
What is a little known fact about you?
I started doing booking for the band, Watermark from Wichita, Kansas, after hearing them play. I was a high school junior. In my three years volunteering for them, I kept them working nine months out of the year playing in the US and Canada. They introduced me to a recording by a young artist named Amy Grant for whom I became personal correspondent from 1985 to 1998 while living in Nashville, Tennessee.
What is one of your earliest memories of art in your life?
I distinctly recall sitting at my desk in first grade creating an owl puppet using a paper sack and crayons. I got completely absorbed in drawing and detailing the individual feathers. I was allowed to miss recess in order to keep working. (Thank you, Mrs. Schreiber!) It was very satisfying to complete my owl and so encouraging when others admired it, as well.
What makes you happy?
Likely a mix of my cultural heritage and my geographic placement – I really like to be useful. Nothing makes me happier than having a project that I know I can excel at. "I love it when a plan comes together!" If I can imagine it, author it, organize it, promote it and attend it – I'm on cloud nine. :-)