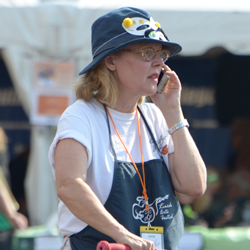 Melissa Epp
Development Director
What makes you come to work everyday?
That there are no two days ever alike.  That each day will be filled with some kind of laughter and somehow our work makes for a better world.
What is a little known fact about you?
In the third grade I was named Little Miss Cotton at Gold's department store.  To this day I have no idea why Nebraska was even included in this, as to my knowledge, we don't grow cotton.   My father was terrified I would become a pageant brat and refused to let us fly to Little Rock, Arkansas.  My mom and brother and I ended up taking the train.  PS.  I didn't win in the south.
What is one of your earliest memories of art in your life?
Honestly it has been so much a part of my life it is hard to pick just one.  I remember dressing up in my mom's formals and pretending to be a torch singer like she was. We were exposed to dance, art, theatre and my mom was artistic in all ways.  But the one that really jumps out at me is my piano recital.  I had to miss the dress rehearsal prior to the performance.  My friend warned me "never rehearse before a performance."  Of course my piano teacher forced me to practice anyway.  During the performance my hands when to the wrong key from the very first note and the "Cheery Little Linette" was reinvented by my hands.  Afterwards I burst into tears and gave up on piano.  I became an actress.
What makes you happy?
No doubt it is my husband, my kids, my mom and my "mostly companion" Bailey (our dog).  I love to make people laugh.  I try to make each encounter with someone significant.