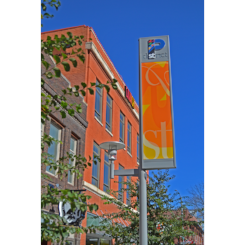 "P" Street District Improvements
Enersen Urban Design Award
Recognizes Lincoln's outstanding urban design projects.
About "P" Street District Improvements
The P Street District is envisioned in the 2005 Lincoln Downtown Master Plan as a hub of city and civic activity: a retail destination that is active day into night, throughout the year. The Plan also shows P Street as a connector for Downtown from Haymarket to Antelope Valley's Union Plaza Park, including great spaces like Tower Square and Centennial Mall. Crandall Arambula authored the Master Plan and the 2012 Update that provided the framework for the P Street Streetscape. Using the "complete streets" model to inform the design, a team that included Design Workshop, Inc. and Clark Enersen Partners worked with City Staff. The Phase I improvements constructed from 11th Street to Centennial Mall expand the pedestrian path, improve lighting, mitigate storm water run-off, improve bike facilities and amenities, reduce street crossing distances, expand the tree canopy, and add branding to the corridor. Phase II is nearly finished from Centennial Mall to Antelope Valley Parkway.
Sponsored by The Clark Enersen Partners