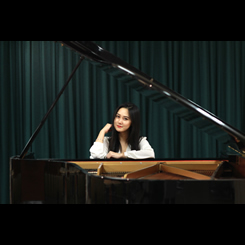 JF International Music Academy
Gladys Lux Education Award
Recognizes special initiatives or dedication to arts education. 
About JF International Music Academy
Dr. Feifei Jiang is a founder and music director of the JF International Music Academy (JFIMA) in Lincoln. She has performed throughout the United States, Mexico, and China, and received "Best Performance" at the International Chopin Piano Competition in Asia 2004, First Place in the Special Chopin and Mozart Prizes at Asian Young Artist Piano competition 2005, Silver Medalist at KMTA Collegiate Graduate Piano Competition 2007. In 2013, she received a Doctor of Music Arts degree from the UNL Glenn Korff School of Music.
Dr. Feifei Jiang teaches piano at Doane University, JFIMA, and accompanies at Nebraska Wesleyan University. She has conducted piano master classes at Kansas State University and Northwest Missouri State University. She believes that learning music is multifaceted, entailing mental and physical challenges, which foster expressive interpretation. Dr. Jiang organizes JFIMA concerts in Omaha, Lincoln, and Kearney, and encourages her students to discover their own musical journey.
Endowed by the Gladys Lux Foundation