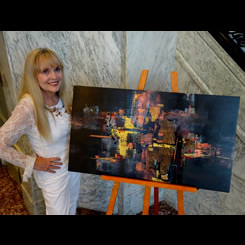 Julia Noyes
The Legacy of the Arts Award
Recognizes a senior (age 55 and up) actively involved in creating, teaching, sharing or inspiring artistic expression in any discipline.
---
About Julia
The Noyes Art Gallery, located at 119 S 9th Street, is in its 25th season and 25 events are planned for 2018.
Julia Noyes is the owner and chief cheerleader. She mentors gallery artists while helping to nourish the Lincoln Visual Arts community. She provides both inspiration and opportunity through exhibits, opening receptions, sales of artwork, and educational and creative growth.
Entrance is always free to the gallery and to the Sunken Gardens Art Show, an annual event orchestrated by Noyes.  She co-hosts the KZUM radio talk show "Art Talk Live," teaches as an adjunct at Union College, organizes schools and nonprofits to create group murals and has co-authored the book, Art Gallery Basics.
Noyes is known locally and regionally for her large, contemporary mixed- media paintings. Influenced by her travels and studies in more than 20 countries, her paintings reflect an abstract expressionistic- style. She also creates Klimt- inspired portraits and impressionistic-styled landscapes and florals.  Recently the Museum of Nebraska Art chose one of her paintings for their permanent collection.
Sponsored by Legacy Retirement Communities