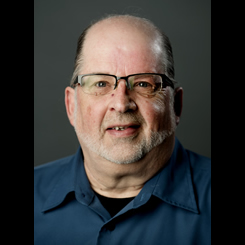 L Kent Wolgamott
Artistic Achievement Award – Literary Arts
Recognizes excellence and accomplishment in literary form.
---
About Kent
L. Kent Wolgamott has written about the arts and entertainment at the Lincoln Journal Star and Lincoln Journal since 1985. He joined the Lincoln Journal in 1981, covering city and county government and environmental issues. From 1976-78, he was a legislative aide and press liason for Sen. Edward Zorinsky.
His writing has appeared in magazines, including Art Papers, Rolling Stone and Time, on syndicated services and in museum and commercial gallery exhibition catalogs. He has also appeared in documentary films, most recently in "Ticket to Write: The Golden Age of Rock Music Journalism" and has reviewed films on television and radio for 20 years.
In 2009, he was one of 12 American fellows in the U.S. Department of State/National Endowment for the Arts International Arts Journalism Institute in Visual Art. 
Wolgamott is a Curtis, Nebraska native and a graduate of Medicine Valley High School and the University of Nebraska-Lincoln.
Sponsored by Commercial Investment Properties