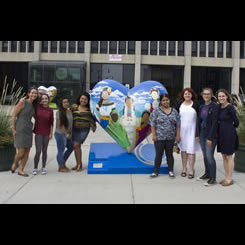 "Nebraska by Heart" Public Art Project
Outstanding Event Award
Recognizes a performance, exhibition or project in the previous year that will be notable in the community memory for years to come because of its content or cultural significance.
---
About Nebraska by Heart
Nebraska by Heart was a Public Art Project recognizing Nebraska's sesquicentennial. It was supported by the Nebraska 150 Committee as a Legacy Project and sponsored by Lead Up Lincoln and Sadie Dog Fund, two Lincoln-based, non-profit organizations. Liz Shea-McCoy was the project coordinator.
Nebraska by Heart was modeled after other Lincoln based Public Art Projects such as the Bikes of Tour de Lincoln (2003) and the Light Bulbs in Illuminating Lincoln: Lighthouse (2015).  It featured 89, 6-foot fiberglass Hearts (as well as a few steel and bronze Hearts) created by Nebraska artists – professional and emerging -  which were exhibited in Lincoln from May 1 – October 1, 2017. Individuals of all ages love public art projects as they witness how artists transform a 'cookie cutter' concept into their own unique, creative vision.
Nebraska by Heart touched the Hearts of those who call it home and the love Nebraskans feel for our great State – truly, the Good Life!
Sponsored by Kathy & Marc LeBaron