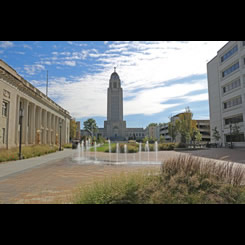 Nebraska Capitol Environs Commission for Centennial Mall Improvements
Enersen Urban Design Award
Recognizes Lincoln's outstanding urban design projects.
---
About Nebraska Capitol Environs Commission for Centennial Mall Improvements
The Urban Design Committee is recognizing the redesign and rebuilding of Nebraska's Centennial Mall as the recipient of the 2018 Larry Enersen Urban Design Award.  We are grateful for the leadership provided by The Lincoln Parks Foundation, Lincoln Parks & Recreation Department, Clark Enersen Partners and The Nebraska Capitol Environs Commission.
Centennial Mall as designed by Larry Enersen and built for Nebraska's statehood centennial in 1967 transformed the seven blocks of 15th Street between the Capitol and UN-L's City Campus.
Efforts in the late 1990s to redesign and rebuild all seven blocks failed. The Environs Commission pursued improvements and member Tom Laging provided images of concepts for a dignified, simplified, accessible Mall.  A design team led by The Clark Enersen Partners and a public-private fundraising effort coordinated by the Lincoln Parks Foundation worked successfully to create the current Mall.
Nebraska's Centennial Mall draws its decorative vocabulary from the Capitol and its grounds.  Three water features in operation during the warm season become pedestrian plazas when the fountains are turned off.  Plaques along the "Spirit of Nebraska Pathways" provide abundant opportunities to tell the stories of Nebraska's history.
Sponsored by Clark Enersen Partners