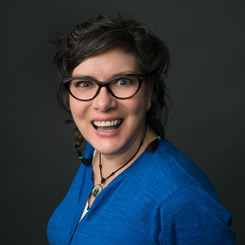 Peggy Gomez
Heart of the Arts Award
Recognizes an individual or organization for outstanding volunteer dedication to the arts or for making a major overall impact on the arts in Lincoln.
---
About Peggy
Peggy Gomez received her BFA from the University of Nebraska at Lincoln and her MFA in printmaking from the University of Minnesota at Minneapolis. UNL has been an exceptional partner and supporter. The University hired her as a part-time Instructor teaching Drawing and Printmaking for nearly 10 years and after she opened Gomez Art Supply in 2003, UNL students and staff have been her biggest customers. Gomez is deeply grateful for this ongoing relationship with the Art Department at UNL.
In 2005 Joey Lynch, Jake Gillespie and Peggy Gomez founded Tugboat Gallery. The Gallery burst onto the Lincoln artscene, filling a need to show emerging, installation, and performance, experimental and established artists. Tugboat Gallery is now located above Gomez Art Supply in the historic Parrish Building and is currently operated by Gomez, Nolan Tredway and Lisa Guevara. It remains a non-commission/volunteer-run space that continues to exhibit relevant, exciting and inspirational work.
Sponsored by Runza® National