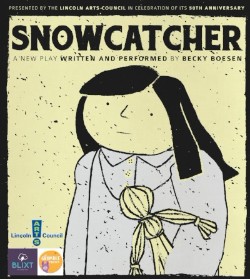 Lincoln Arts Council Celebrates 50 years with Snowcatcher Performances
The Lincoln Arts Council and BLIXT, a Lincoln-based organization committed to improving the lives of children and families through the arts, are joining forces to address the needs of Lincoln children through a powerful one-woman show written and performed by award-winning playwright Becky Boesen titled, "Snowcatcher."
Co-commissioned by Lincoln Arts Council and Midwest Theater in Scottsbluff and created in partnership with Mourning Hope Grief Services and Homestead National Monument, "Snowcatcher" centers on Hattie, a six-year-old caught in a ferocious blizzard in the winter of 1888. Confused by the cold, she is driven by a haunting vision: her secret friend is trapped in the storm. Hattie knows what happens to children in a blizzard. One touch from the Snowcatcher will turn them into ice. Will she be able to save her friend and make her way home without meeting the Snowcatcher?
"Snowcatcher" aims to give a voice to the forgotten young people who navigated the blizzard of 1888, better known as the Schoolchildren's Blizzard. The storm, which appeared unexpectedly and suddenly, stranded and killed many, including children in one room school houses across the Great Plains. According to Boesen, the play was also designed to give a voice to children living in present day who are navigating challenges like poverty, isolation, and grief.
In honor of the Lincoln Arts Council's 50th Anniversary, LAC is presenting four performances of "Snowcatcher" in October 2018 at the Lied Center for Performing Arts, dates and times to be announced. Twenty percent of all tickets will be donated to children and their families who may not otherwise be able to see the production. BLIXT will coordinate these efforts, and is working with community partners including Mourning Hope Grief Center and the Food Bank of Lincoln to connect families to the production. "Every child in Lincoln deserves a voice in the community conversation," said Deb Weber, Executive Director of the Lincoln Arts Council. "Lincoln Arts Council is pleased to offer 'Snowcatcher' to Lincoln audiences, a powerful, empowering play that helps raise those young voices while illustrating the importance of focusing on the needs of children and their families."
"We want every child fed, every child warm, and every child heard," said "Snowcatcher" producer Petra Wahlqvist. Wahlqvist, who also produced "Puddin' and the Grumble," a Lied Center for Performing Arts commission which focused on child hunger, written by Boesen and composer David von Kampen, added, "This project is an extension of the many projects BLIXT has been so fortunate to be a part of that utilize the arts to make life better for children in Lincoln, and beyond. "In tandem with "Snowcatcher," BLIXT has established a program designed to collect blankets for children who need them. The blanket collection is part of an ongoing kindness initiative called "The Grumble Project" which is an arm of BLIXT that supports existing direct service providers in meeting the needs of Lincoln's families. BLIXT is currently working to collect blankets for children attending four Title One Schools.
"We're calling the blankets 'Wuzzlewubbies' and focusing on families who have students in kindergarten through the 5th grade" said Boesen, "We're hoping to grow the drive annually and make it a long-term fixture in Lincoln, as long as it's needed." Donations can be made by visiting http://bit.ly/2DDb17i. Select "Grumble Project" in the dropdown menu to provide a child in need with a blanket. Lincoln Arts Council and BLIXT will offer additional educational and engagement opportunities surrounding "Snowcatcher" throughout the year as part of the LAC's 50th anniversary celebration. For information regarding "Snowcatcher" or The Grumble Project, email Petra Wahlqvist at petra@blixt.space.
 
About the Lincoln Arts Council
The Lincoln Arts Council began in 1968 when a small group of community members gathered together with a common passion for the arts in Lincoln. They formed an organization whose rich history of arts services and programs continues to evolve and meet the growing needs of our community. The LAC provides quality arts education experiences for children through the Art Makes Me SmART program. www.artscene.org
About BLIXT
BLIXT improves the lives of children and their families through the development of new theatrical works, community action plans, and arts education initiatives at the local, regional, and national level. The company specializes in compelling new theatrical works and theatre for family audiences. www.blixt.space
 
About Mourning Hope
Founded in 1994, Mourning Hope Grief Center companions grieving children, teens, young adults and their families when someone significant in their lives has a serious illness or has died. Mourning Hope provides support groups, community education, grief resources and referrals. Mourning Hope is located at 4919 Baldwin Avenue. For more information call (402) 488-8989 or visit the website at www.mourninghope.org.