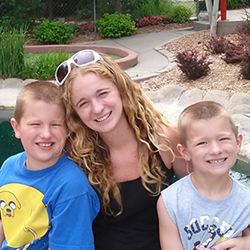 Amanda Suhr
Accounting Associate
What makes you come to work everyday?
I come to work because I love the numbers! I love trying to cut costs and save money. The Arts Council is a fun place to work and its just easy to be there. 
What is a little known fact about you?
A little known fact about me is I always wanted to be a dentist since I was young. I'm not so good at the science stuff so I ended up doing Accounting.
What is one of your earliest memories of art in your life?
I started dancing when I was very young and I loved it. I was in multiple recitals. I did tap and ballet and performed at the Arbor Day Festival one year in Nebraska City.
What makes you happy?
What makes me happy is being with my family. Nothing is better then a Saturday morning snuggled up on the couch with my kids just being together.