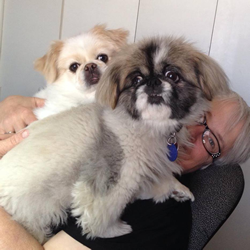 Deb Weber
Executive Director
What makes you come to work everyday?
I know that the work we do can create a positive change in the lives of our community, those I call my neighbors and friends. Working towards a world where all people could be involved in the arts is an equitable and right thing to do, and what I was born to accomplish. I feel that it is my responsibility to help others find a positive form of expression as they evolve in their lives.  I love the challenge and all the possibilities.
What is a little known fact about you?
When I was about three years old we had ponies who lived in our back yard.  They were Shetlands that were named Star and Varsity.  We had an incident -- Varsity kicked the neighbor -- so we had to get rid of them.  I've never asked for a pony for Christmas.  
What is one of your earliest memories of art in your life?
In the first grade at Calvert Elementary I created a cover for my spelling test booklet that I was so proud of.  The cover was lavender construction paper with a tulip shaped flower that I created out of dusty rose wads of tissue paper glued on the front. Inside were my nearly perfect spelling tests. I remember that my mother loved the project. 
What makes you happy?
My most happy times are being in the mountains, spending time with my family and most especially our dogs.