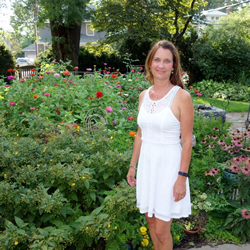 Michele Peón-Casanova
Development Director
What makes you come to work everyday?
Knowing that I make a positive difference in our community by working at LAC. The programs and services LAC has championed over the last 50 years bring our community together and impacts many lives. I want to build upon the successful programs and services of LAC to make them even better!
What is a little known fact about you?
Most people probably don't know I grew up on an acreage outside of York and showed horses in 4-H with my brothers and sister. I started riding on a Shetland pony, but when I got older I advanced to my favorite horse in the world, Oly. After years of successful barrel racing she was able to live out her life in the calm, green pastures of our acreage.
What is one of your earliest memories of art in your life?
Looking at and being in nature is art to me. My love of nature led me to taking photos at a very young age on an old black and white camera. I saved my money and bought a Canon AE-1 in high school and learned to develop my own photos. We are deeply connected to nature and each other. Photography helps me express that.
What makes you happy?
Anything outdoors. I love bicycling, running and walking. I can't think of anything better than a view of a Nebraska sunrise or sunset, flowers in my garden, the smell of rain, my hands in dirt. Sharing these things with family and friends makes the experience all the better.