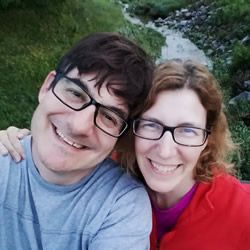 Robert Goldberg
Education and Outreach Coordinator
What makes you come to work everyday?
Life has hurdles. It's easy to get discouraged. We can talk to friends and family and we can distract ourselves with a screen or a book. But only one thing can provide true catharsis -- the arts. To draw or to paint, to sing or dance. Everybody has their art; mine is to play the piano.
The arts are the forgotten remedy. To create art is to get a booster shot right in to the wound. I'm not a physician, a pharmacist or a therapist, but I've felt what music and art can do for me, and I've seen what it can do to others. I come to work to dispense the salve. I come in to work so that I can help people heal.
What is a little known fact about you?
The longest I have ever lived in one place is right here in Lincoln. I've lived on three continents, in three countries, five states and eight cities, and went to seven schools. I moved from South Africa to America when I was 15 and I voted in just one South African election – for Nelson Mandela in 1994. I became a US citizen during my lunch break on Flag Day, 1996 -- I walked from work at Carnegie Hall to the Javits Convention Center, became a US citizen with about 4,000 other people, then walked back to work through Times Square, with time to spare for a sandwich. On my desk were two gifts from my co-workers: a T-shirt with an American flag, and a copy of Guns & Ammo magazine.
What is one of your earliest memories of art in your life?
When I was about 6 my father took me to a lunch-hour concert by the Johannesburg Symphony. They played Smetana's The Moldau. It was the first piece of classical music I had ever heard, and the first time I heard a live orchestra. I remember the rush. Classical music has been at the center of my life ever since.
What makes you happy?
Beethoven. Bernini. And cosmology.