Calling all Artists!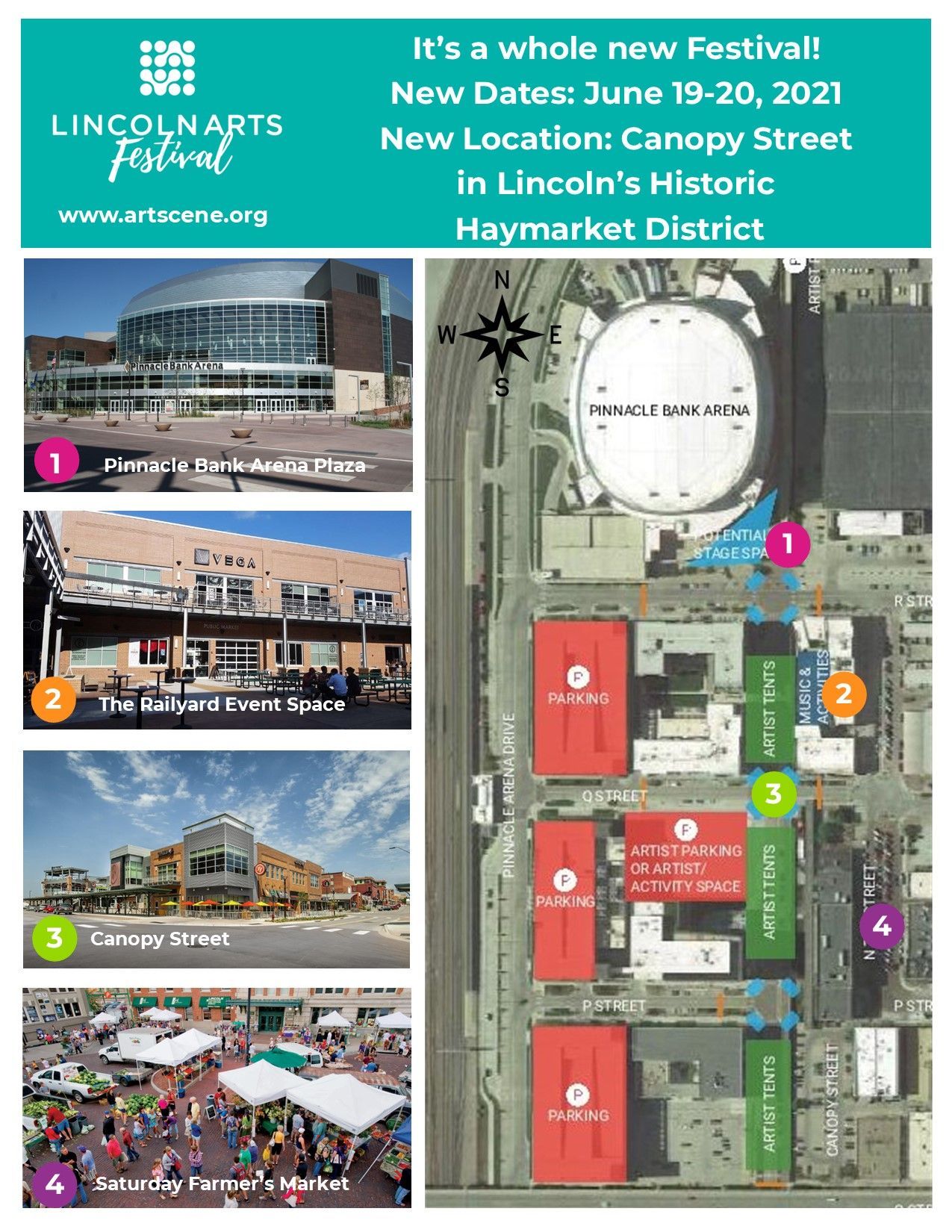 It's a Whole New Festival!
Artist Applications Accepted
October 19, 2020 - February 19, 2021
Apply via

ZAPP
The 20th Lincoln Arts Festival is moving to Canopy Street & the Railyard in Lincoln's historic Haymarket, one of the city's best entertainment destinations! Located across the street from the Pinnacle Bank Arena, the vibrant venue features live entertainment and The Cube.
The 2021 Festival Features:
Easy access for artist with parking adjacent to the Festival footprint.

Hotels on the Festival footprint or within a few blocks.

Easy-access parking for Festival patrons.

Tons of interactive art activities for people of all ages.

Saturday morning Farmer's Market adjacent to the Festival that draws thousands of people each Saturday.

Numerous restaurants and great Downtown foot traffic.
---
Festival Details for Artists
You are invited to participate in a celebration of the arts June 19-20, 2021 at the 20th Lincoln Arts Festival, presented by the Lincoln Arts Council. This Festival has repeat patrons and artists and attracts new artists and patrons each year. The Lincoln Arts Festival is known as a hospitable, caring and fun show. "Sunday was close to my biggest single sale day ever. The caliber of your patrons is outstanding. They really appreciate the art and the sales reflect that." – John from Dayton, OH. 
The Mission
The Mission of the Lincoln Arts Council is championing the arts, connecting people, changing lives. Your participation in the Lincoln Arts Festival helps to underwrite the important work of the Lincoln Arts Council increasing arts access and generating social change. Learn more at www.artscene.org

A Premier Event
Now in its 20th year, this juried show is anticipated each year by residents of Lincoln, NE and the surrounding region. The festival is moving to Canopy Street & the Railyard in the Historic Haymarket District in downtown Lincoln - the heart of Lincoln's art scene. We are excited for the change of venue and opportunity to grow the festival. A unique mix of prime location, discriminating clientele and a celebratory atmosphere combine to create a "can't miss it" event. The show committee consists of community volunteers and staff with many years of experience organizing shows.

An Affluent Location
This show provides a high-quality visual art experience through a juried art format in downtown Lincoln's arts corridor surrounded by museums, theaters, music and nearby UNL campus. Selected food vendors, live entertainment and kids activities help to draw in the passerby and create a genuine festival atmosphere.

Marketing Approach
Through a fun, creative marketing campaign, the festival committee encourages attendees to BUY ART. The arts council's website includes a complete directory of participating artists with photos and artist web links. The festival is promoted on the arts council's Facebook page highlighting individual artist participants in the weeks preceding the show. Recruitment focuses on Patron Sponsors who commit to art purchases in advance. The festival is also promoted as a destination event to the surrounding area. Participating artists are encouraged to share festival promotion with their patrons and friends. The festival's message is designed to get noticed and is promoted in broadcast and print media as well as through internet social media.

Emerging Artist Program
Artists for whom the Lincoln Arts Festival is their first arts festival show may apply to the Emerging Artist Program for a scholarship. Recipients are provided with a tent and display materials; the booth fee is waived. Emerging Artist scholarships are limited. If this is your first ever festival show, please specify this status when applying.

A Rewarding Experience
Awards are given in Best of Show, Best of Nebraska, Best Newcomer, Mayor's Choice plus seven Awards of Excellence. Each winner receives a cash prize. 

The Finer Details:
Fees
Jury Fee: $25/application
Single Booth Fee (10' x 10'): $200
Corner Booth Fee (10'x10'): $250
Double Booth Fee (10' x 20'): $400
Deadlines
Application and Jury Fee Deadline: 2/19/2021 11:59 p.m. CST
Jurying: 2/22 to 2/25
Jury results emailed: 3/01/21
Accept invitation and pay booth fee by: 4/19/21
NEW Show Dates: 6/19/21-6/20/21
 
Festival Hours of Operation
Saturday, June 19 from 10 am to 6 pm
Sunday, June 20 from 10 am to 5 pm

Exhibits
The festival is held outdoors on pavement. Booth sites are a minimum of 10ft x 10ft level sites. Exhibitors must provide their own tents up to 10ft x 10ft and all necessary display equipment including adequate weights for Nebraska conditions (minimum of 50 lbs per corner). Tents must be white. Artist parking is provided nearby. NOTE: PREPARE FOR WINDY CONDITIONS. TENTS AND DISPLAYS MUST BE SECURED FOR YOUR SAFETY, THE SAFETY OF OTHER ARTISTS AND GUESTS AND TO PROTECT YOUR VALUABLE ART. WE ARE A RAIN or SHINE or WIND FESTIVAL.

Acceptable Works
All work must be original designs created by the artist. Signed, limited edition reproductions will be allowed; however, they must occupy less than one third of the display area and the process used in production must be clearly identified. No items may be displayed which are deemed "inappropriate" or which do not meet the common definition of "handcrafted" or "artwork" as interpreted by the Festival leadership. While a balanced show that equitably showcases diversity among media is a principle objective, the Lincoln Arts Festival establishes no quota or entitlement by media category. All jewelry must be juried in as jewelry. The Lincoln Arts Festival has a strict policy against buy/sell vendors. We encourage artists to discreetly inform show management if they recognize a known buy/sell vendor not showing their personally produced artwork

Media Categories
Ceramic: original clay work, excludes jewelry
Drawing: two-dimensional works in pencil, chalk, pastel, charcoal, pen and/or ink
Fiber: work crafted from fiber including fabric and paper, excludes jewelry
Glass: works made of glass that have been crafted by glass blowing, molding, casting or kiln-forming, excludes jewelry
Jewelry: metal, glass, clay, fiber, paper, plastic or other materials are accepted
Leather: any work crafted from leather, excludes jewelry
Metal: work crafted from metal, excludes jewelry
Mixed Media 2D and 3D: single works that incorporate more than one type of physical material in their production (ceramic/fiber; wood/metal, etc.), excludes jewelry
Painting: two-dimensional works in paint including acrylic, oil, watercolor, etc.
Photography: photographic prints created from the artist's original negatives that have been processed by the artist or under direct supervision of the artist
Printmaking / Graphics: original works created using traditional printmaking methods including lithograph, block, serigraph, etc. as well as computer generated art
Sculpture: three-dimensional original work created in any medium, excludes jewelry
Wood: original works in wood that are hand-tooled, machine-worked, turned or carved, excludes jewelry

Application Process
If you need assistance with applying on Zapplication.org, check out the image preparation section of the Zapplication site. There are many resources and great information to get you started on your application.

Artist/exhibitors may enter in more than one medium, but must submit separate applications, fees and images (meaning, a unique and distinct ZAPP profile must be used to apply in multiple mediums). If only one application is accepted, only work in that medium may be exhibited. For example, all jewelry must have been juried in the jewelry category. We reserve the right to ask you to remove any category or medium that was not submitted. If in doubt, it is best to submit a separate application.

Digital Images
Five images are to be submitted for each application entered by the artist.
Four images must be of individual pieces of work.
The fifth image must be of a display of the artist's work, showing overall continuity and presentation of your current body of work. If a booth image is not available, submit an image taken of a grouping of works representative of the works to be exhibited at the show. The purpose of the booth image is to ensure the artist has a sufficient body of work and professional booth presentation.
Images must be in 1920 pixel horizontal x 1920 pixel vertical format, for more information access www.zapplication.org/imaging_tips.phtml
Images must accurately represent the body of the artist's work to be exhibited at the Lincoln Arts Festival.
Upon acceptance to the festival, artists agree that Lincoln Arts Festival may use images of their work for promotion, website or other publicity purposes in printed or digital form. All participating artists will be showcased on our website, artscene.org

Jury Process
Selection will occur February 22 – February 25, 2021. The jury process is a blind process utilizing five jurors that change each year. The jurors are drawn from a pool of professional artists, gallery and museum curators, and art educators. Submitted images will be displayed along with your brief artist statement. Jurors will score each applicant on a scale of 1 to 5. The highest scoring entries will be in the show. The Lincoln Arts Festival maintains a waitlist from the jury process. There is no scientific formula for this list other than our sincere attempt to maintain a balance of art disciplines at the festival. Jury scores are not issued. Jury status notifications will be emailed by March 1, 2021.

Security
While the Lincoln Arts Festival will provide security on the premises during the show and through the night, artists exhibit at their own risk. Neither the show committee, the City of Lincoln, nor the Downtown Lincoln Association is responsible for theft, loss or damage to the person or property of the artist or their representative. Artists may not have pets in booths or park R.V.s overnight on the premises.

Amenities
Advertised to the entire metropolitan area via radio, e-blasts, newspaper, direct mail, and Lincoln Arts Council website and social media.
Festival Site Map
Established Patron Purchase Program
Artist Hospitality Tent
Continental breakfast served both Saturday and Sunday
Nearby parking
Festival Management Staff on site
Overnight security on site
Friendly Volunteers
Experienced Booth sitters
Lodging discounts
Awards
Food vouchers for artists
---