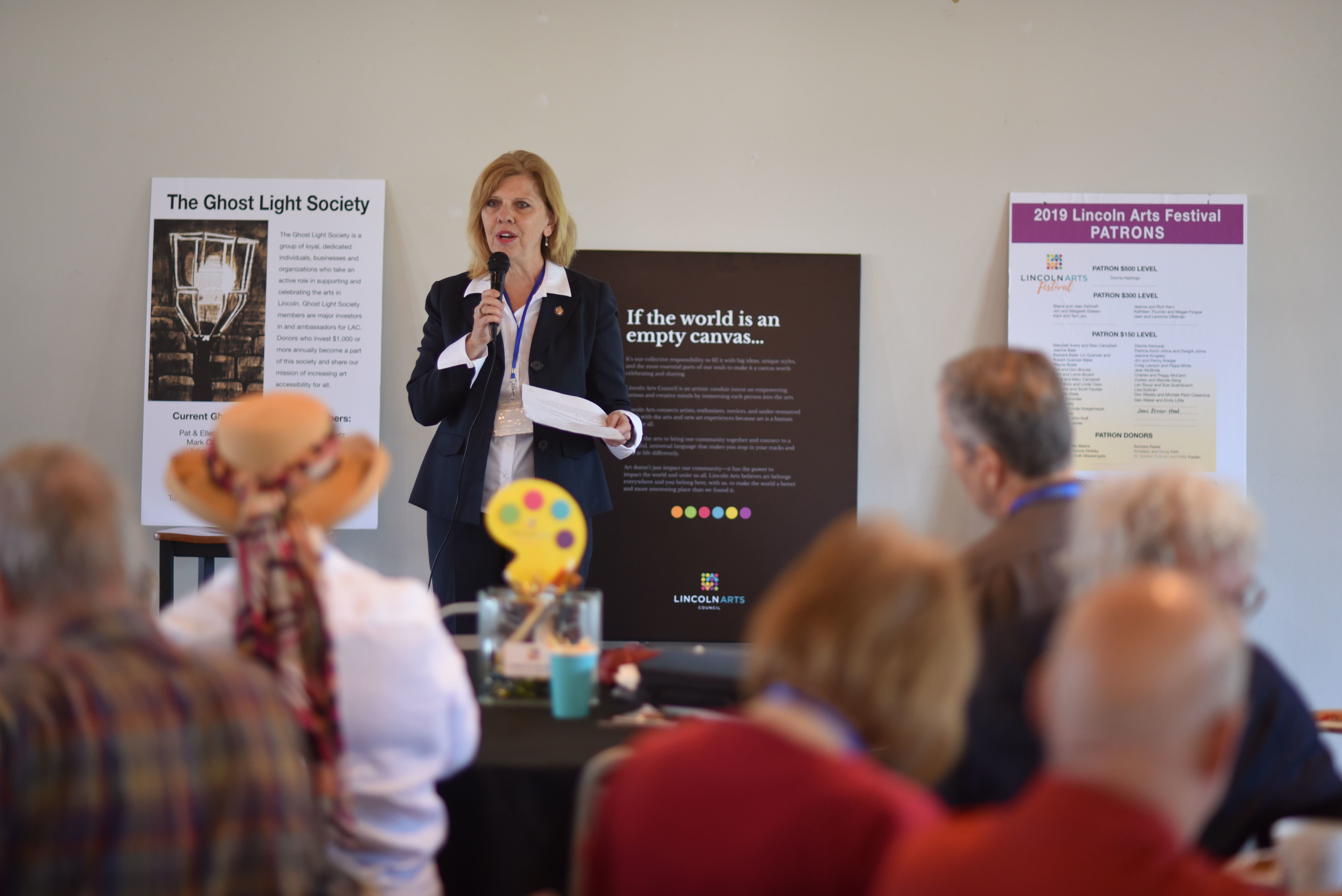 Sign up now to be a Festival Patron
Plans are underway for the Lincoln Arts Festival to be held on Saturday, June 19and Sunday, June 20. We are excited to get outside with great art and activities and we hope that you will join us. Nearly 90 artists from across the country will be showing and selling a variety of original art pieces. There is something for everyone to enjoy!
We invite you to make your shopping commitment early as an Arts Festival Patron. Please consider supporting the Lincoln Arts Festival by becoming a patron. Patrons are vital to the success of the Festival and the artists in our communities. When you become a Patron of the arts, you ensure this celebrated community event continues to enrich the quality of life in Lincoln.
Join us for the Patron Open House Reception
As a 2021 Festival Patron, you and your guest are invited to a patron open house reception in the Courtyard of Tavern on the Square in the Haymarket District on Monday evening, June 14 from 6 -8 pm to meet Festival emerging artists and view their artwork. Hors d' oeuvres and drink tickets are provided by our generous sponsors Canopy Street Market and Donna Hastings.
That evening you will be entered into a drawing to receive a piece of art from one of our nearly 90 artists from Nebraska and across the country from a variety of mediums including clay, drawing, fiber, glass, jewelry, painting, photography, printmaking, sculpture, wood and mixed media. If you recruit another patron to participate, you will receive two entries to win! We value the safety of our patrons and sponsors who participate in our festival. While we are optimistic about the pace of vaccinations in Lancaster County, we understand that caution is still required, which is why our reception is taking place outdoors.
Buy Art with Art Bucks
Patrons receive art bucks that are spent just like cash at the Festival. You will be supporting the artists by purchasing their handmade art while also supporting LAC's mission of providing programming and events that engage, empower, and change lives regardless of economic status, age or life situation.
You may become a Patron at two levels:
$150 = $100 in Art Bucks and $50 LAC tax-deductible donation.
$300 = $200 in Art Bucks and $100 LAC tax-deductible donation.
Patrons will be recognized on our webpage and on the Festival livestream, so go online before June 1st to be included. Feel free to contact Michele Peon Casanova with any questions you might have at 402.326.8455 or michele@artscene.org.
Click here for more Festival information.
Would you like to volunteer? It's a great experience. Click here to volunteer.
We look forward to seeing you in June and appreciate your support.