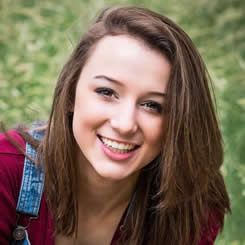 Samantha Payant
Artistic Achievement – Youth    
Recognizes excellence and accomplishment in any arts discipline by a young person age 18 or younger.
Why Art?
Without question, my involvement in the arts has helped shape me into the person I am today. The arts open the door to a world of possibility, creativity, and self-expression. I found a home in acting - one of the most incredible things that anyone can do. Playing a character means stepping into someone else's shoes, seeing the world through their eyes. It is for this reason that artists are the most wonderful, open-minded people in the world. They immerse themselves in stories, spend hours pondering the effects of their words and actions on others, and they search for the finesse and beauty in everything. –Samantha Payant
Sponsored by Talent Plus, Inc.