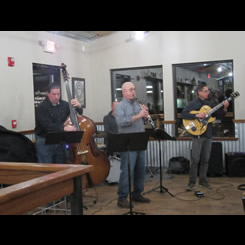 Capital Jazz Society
Outstanding Arts Organization
Recognizes an arts group that has made significant contributions to Lincoln's arts community over a period of years.
---
About Capital Jazz Society
The Capital Jazz Society is a nonprofit organization that presents a series of high quality jazz events on Monday evenings. The three component programs of the Capital Jazz Society – the Monday Night Big Band, the Lincoln Jazz Series, and the First Monday Jazz Jam – provide a regular series of live music, featuring outstanding local, regional, and nationally recognized jazz groups and artists, including local high school and college groups. Students and community members are encouraged to participate by sitting in with the groups performing, demonstrating the invaluable experience of learning side-by-side professional local musicians.
Sponsored by Davis Design