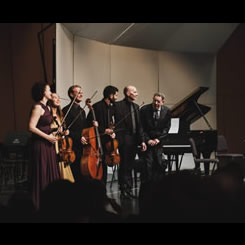 Celebration of Philip Glass
Outstanding Event Award
Recognizes a performance, exhibition or project in the previous year that will be notable in the community memory for years to come because of its content or cultural significance.
---
About Celebration of Philip Glass
Praised by the New York Times for his "Lisztian thunder and deft fluidity," pianist Paul Barnes has electrified audiences with his intensely expressive playing and cutting-edge programming. He has been featured seven times on APM's Performance Today, on the cover of Clavier Magazine, and his recordings are streamed worldwide. 
Celebrating his twenty-three-year collaboration with Philip Glass, Barnes commissioned and gave the world premiere with the Chiara Quartet of Glass's Piano Quintet "Annunciation." From the New York premiere at the Met Museum, the New York Classical Review called the quintet a "a fascinating mosaic of Glass's late style…with a warm inner expression that seemed to echo Brahms."  The world premiere performance was recently featured on Performance Today.
Barnes' twelfth CD New Generations: The New Etudes of Philip Glass and Music of the Next Generation has received rave reviews.  Barnes is Marguerite Scribante Professor of Music at the University of Nebraska-Lincoln Glenn Korff School of Music and his recordings are available on Pandora, iTunes, Apple Music, YouTube, and Amazon.
Sponsored by Marc and Kathy LeBaron