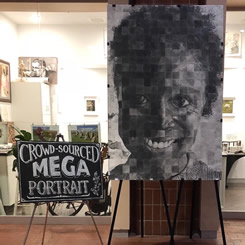 The Lincoln Marriott Cornhusker Hotel Artist-in-Residence Program
Mayor's Choice Award
---
About the program
The Lincoln Marriott Cornhusker Hotel's Artist-in-Residence program allows artists to share their work and interact with guests on property in the studio space for one year, which runs from April 1st-March 31st. During the year of residency, the artist spends a minimum of 30 hours per week in the on-site studio, creating pieces, hosting gallery nights and networking with guests to create a truly enriching experience for travelers.  By the end of the year, a legacy piece is created and permanently displayed in the hotel. Now in its fourth year, the Artist-in-Residence program has hosted the following artists; Margaret Berry, Nicole Battelle Van Hook, Tom Meyers and Wendy Jane Bantam.
The Artist-in-Residence program was created by Marcus Hotels & Resorts in 2009 at The Pfister Hotel in Milwaukee, Wis. The program encourages the public and hotel guests to interact with the artist, while watching the evolution of each created masterpiece. The excellent guest response to the program at The Pfister led Marcus Hotels & Resorts to expand the program to other company-owned properties.
Sponsored by Talent Plus, Inc.