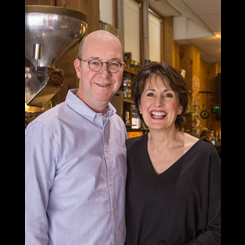 The Mill Coffee & Tea
Larry Enersen Urban Design Award
Recognizes Lincoln's outstanding urban design projects.
---
About The Mill Coffee & Tea
The Mill has deep roots in Lincoln since its inception in 1975, though The Mill that everyone knows truly started when they moved into the Haymarket in 1988 and added an espresso bar to their offerings of freshly craft roasted coffee and loose leaf teas.  Over the ensuing years they have expanded in size and locations – College View in 2001, Nebraska Innovation Campus Bistro in mid-2017 and Telegraph District at the end of 2017. 
The Mill is a Lincoln institution, serving as a meeting, working, studying, dating, and people watching space that crosses social, ethnic and socio-economic borders.  
Long known for great coffee, tea and pastries, it is really the sense of warm, welcoming community that keeps people coming back.  The Mill engages and invests in Lincoln in many ways. They support education and arts causes, and are always willing to engage with organizations that work to make the Lincoln and the world a better place.  The Mill is a catalyst for economic growth in the areas they are located, drawing a steady flow of people which leads to growth opportunities for other businesses locating nearby. Owners Dan and Tamara Sloan are the driving force behind The Mill and it is an extension of their vision of how a business can enrich life in Lincoln and beyond.
Sponsored by Clark Enersen Partners