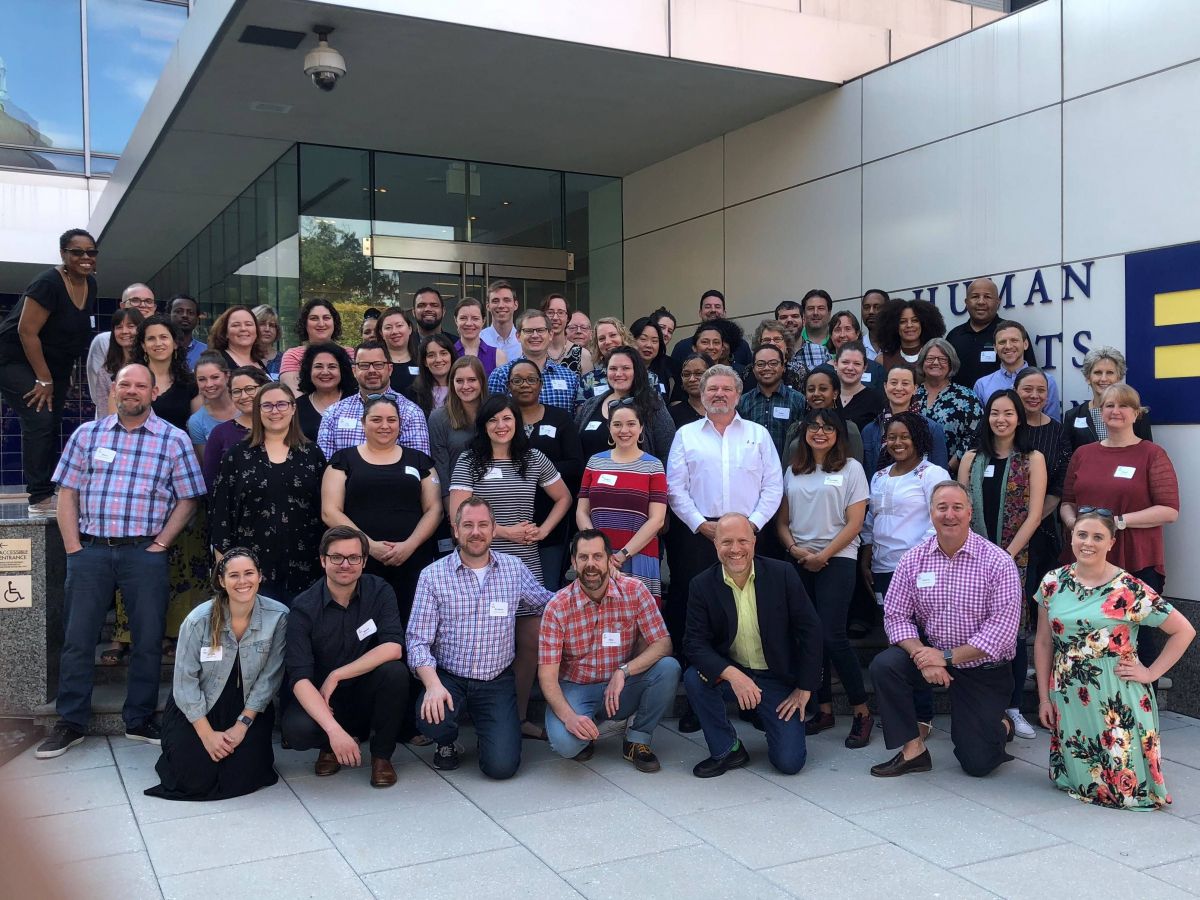 Since 1960, Americans for the Arts has worked to ensure equitable access to a full creative life for all people. While the type and quantity of work may have varied over time, the commitment to equity, diversity, and inclusion has not.
In 2015, our Board of Directors encouraged a more specific, strategic, and long-term commitment to cultural equity. As a first step, we spent a year working with board, staff, and membership to develop a new Statement on Cultural Equity. Formally adopted in April 2016, it honed our commitment and goals around cultural equity, articulated our definitions and areas of measurement, and delineated bodies of work for the organization: internal capacity and competency, funds generation to underwrite the work, external education, professional development pipeline transformation, dedicated research, and investments in equity-related public and private sector policy.
We pledged, in the statement, to evaluate and report out on our progress and learnings over time.
Today, we are happy to share the first of those reports, which covers April 2016 to August 2018. The report is called Mapping Our Progress Toward Cultural Equity, and it is the result of a collective effort from over 60 staff members at Americans for the Arts. A goal of this report is to take a moment to reflect upon the thousands of hours of effort, meaningful shifts in consciousness, and sparks of major new bodies of work that have occurred over the last two years. Another, no less important, goal is to reflect on what we've learned: the need to holistically consider staff, board, and volunteer capacity and expertise; the long runway and underwriting needed to provide useful new work to support a field in transition; and the importance of constantly and aggressively communicating to ensure that the field knows what we're doing.
In conjunction with releasing this report, we are pleased to announce some new programs and services, as well as the simultaneous release of some other great equity-related research from our tireless Americans for the Arts team.

In 2019, we will be expanding our 25-year-old Diversity in Arts Leadership program to new sites and developing new support materials to allow communities to adopt or adapt the program going forward. The new sites, beyond the continued work in New York City, will be Des Moines, IA in conjunction with BRAVO Greater Des Moines, and two sites in the state of New Jersey, in conjunction with the New Jersey State Council on the Arts.

We will also, with support of the Joyce Foundation and American Express, be kicking off a new Arts & Cultural Equity Fellows program centered in the Great Lakes region. This six-city fellowship will combine in-person and virtual leadership development sessions for emerging and mid-career arts and culture professionals of color, as well as the peers, mentors, and managers who impact them.

Acting on advice from an affinity group of leaders of color at the 2018 Annual Convention, Americans for the Arts has now launched the Arts & Culture Leaders of Color Network for our members, and will be inaugurating a new Leaders of Color Forum immersive, 3-day retreat later this year.

Finally, we are happy to announce the release of two paired research publications related to equitable investment by local arts agencies. LAAs collectively invest $2.8 billion each year, and we want to support ongoing work to make sure that investment is happening with equity at the center. "Strategies to Encourage Equitable Investment by Local Arts Agencies" is a set of goals and recommendations gathered from a field advisory group about how the field can collectively impact not only investment but the broader leadership pipeline. "Equitable Investment Policies and Practices in the Local Arts Field" is a research report drawn from questions on the 2018 Local Arts Agency Profile that explores current practices in the field related to investment.
To learn more about all of these projects, as well as the other work we have been and will be doing to center equity within Americans for the Arts and the field, please visit our redesigned Cultural Equity landing page on the Americans for the Arts website, at AmericansForTheArts.org/CulturalEquity.
The work of the arts and culture field has been, and will continue to be, a constant inspiration as we continue our commitment to the full, vibrant creative life for all. Thank you for all that you're doing, and for your support, guidance, and knowledge. Together we'll make important progress and bring our field and our communities closer to cultural equity.