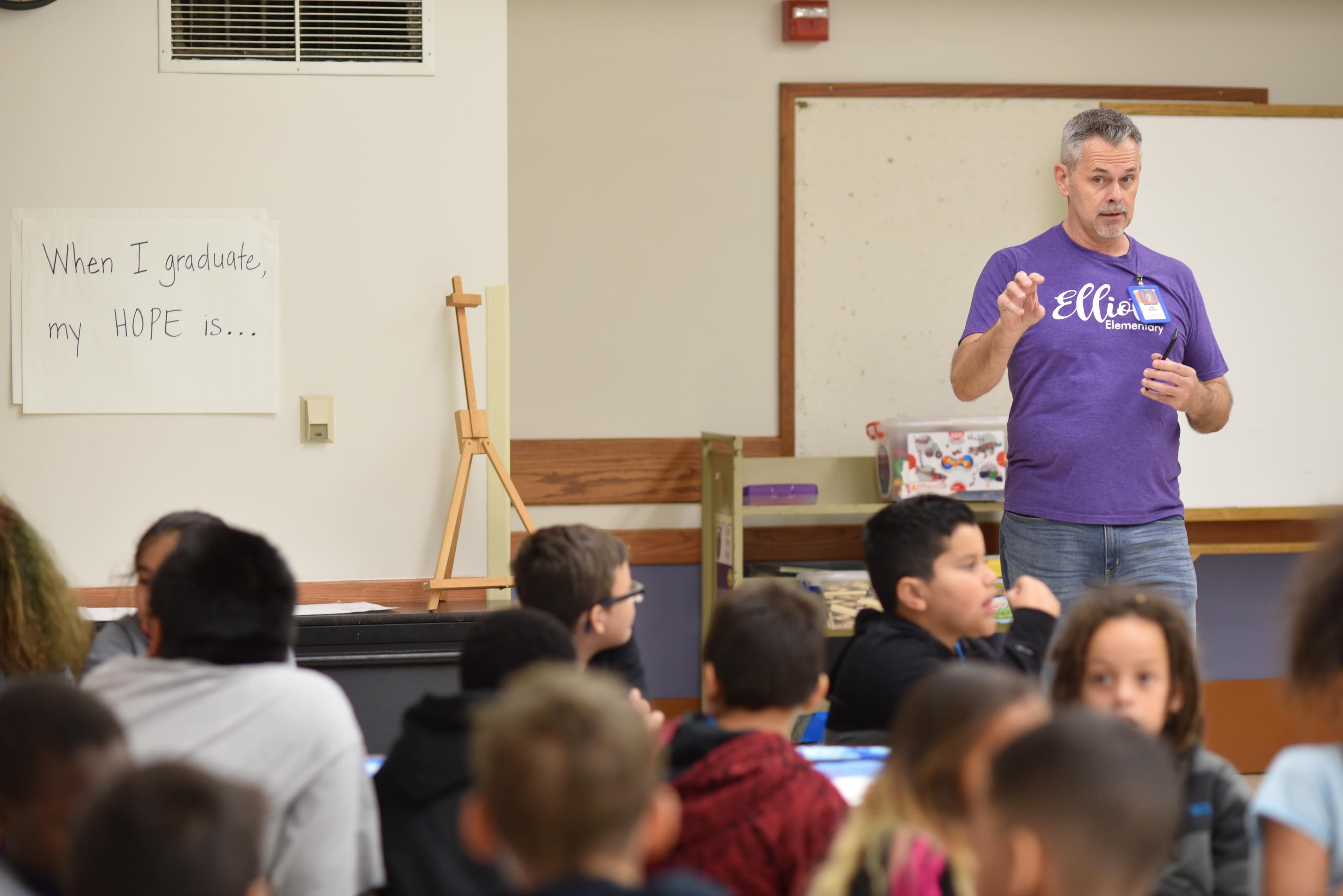 Bob Reeker has been an art teacher for nearly three decades, and has won countless teaching awards. He's the art teacher at Elliott Elementary, where the Lincoln Arts Council funded a residency with teaching-artist Christian Scott this past fall. We sat down with Bob and asked him a few questions.
LAC:  You've been a teacher all your life, working in art and technology at LPS. You also work with Bright Lights. Tell us about more about yourself and your life as an educator.
BR: I graduated from Wayne State College with my Bachelors of Art in Education, K-12 visual art & 7-12 speech communications.  Feel very fortunate to be in my 29th year of teaching for Lincoln Public Schools as well as my 30th summer with Bright Lights, 20 as a teacher and the last 10 as administrator.  

LAC: Why is art so important in children's lives?
BR: Art has the power and impact to change lives.  The innovative thinking, problem solving, and varied perspectives that art affords humans makes both individuals and society better and stronger.  Art also adds so much joy and beauty to our lives.
LAC: What added learning opportunities have partnerships with the LAC offered you and your students?
BR: The most recent artist-in-residence with Christian Scott allowed my 4th graders to see a "real" artist of color who graduated from Lincoln High School, a feeder school of Elliott Elementary School.  As we plan an LAC artist-in-residence experience for 2nd graders next spring, our team (principal, music teacher, 2nd grade teachers, and myself) has begun looking at how an integrated approach to the theme of "overcoming adversity" will resonate and impact the lives of our children at Elliott.
LAC: Do you have a favorite recollection from a LAC residency?
BR: As part of the residence with Christian Scott, we had a critique where all 4th graders hung their collaborative hope paintings in the cafeteria.  As Christian talked about several of the paintings, sharing ideas and suggestions, you could see the pride, the smiles on faces of my young artists. That memory brings a smile to my face!