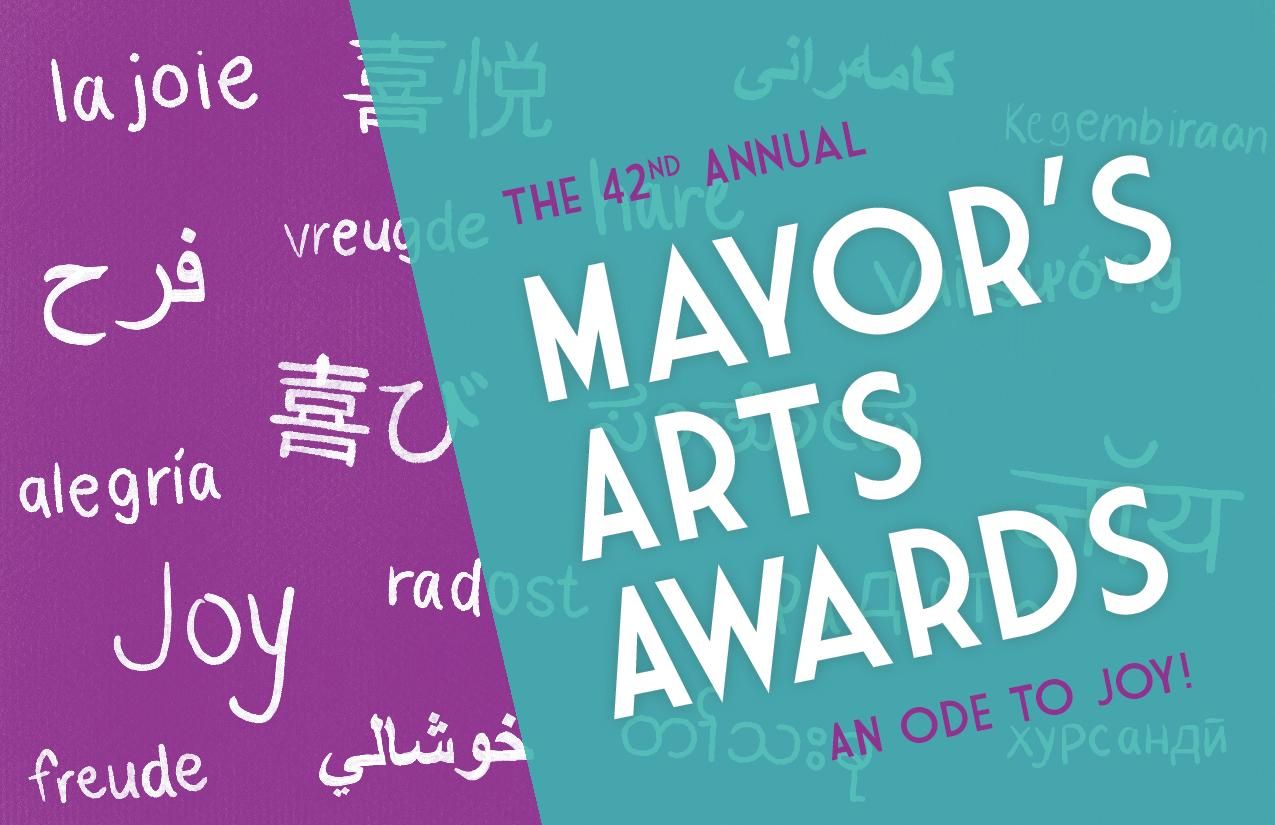 SAVE THE DATE...                       
The 2020 Mayor's Arts Awards Are Coming Up
Mayor Gaylor Baird and the Lincoln Arts Council will honor contributions and achievements in the arts at the
2020 Mayor's Arts Awards on Tuesday, April 14, 2020
at the Pinnacle Bank Arena.
Mark your calendars!
This year's theme "An Ode to Joy" is a celebration of Beethoven's 250th birthday. Beethoven used his art to overcome struggle, and the famous finale of his Ninth symphony is a universal testament to the joy of art and music.
Local artists are creating joy-inspired pieces that will be on display at the event and available for purchase to benefit LAC.  
Mayor Leirion Gaylor Baird has selected Kathleen Grossman and Down Under Pottery to receive the Mayor's Choice Award. Grossman and her pottery students have produced over 14,400 bowls for the annual Empty Bowls Luncheon, helping to raise over $1.1 million for the Lincoln Food Bank.  The Mayor's Choice Award is sponsored by Doug and Mary Campbell.
Other honorees and sponsors are:
Outstanding Event Award: Vision Maker Media, a Native-American run nonprofit based in Lincoln that presents the Vision Maker Film Festival to focus on Native American storytelling and film. Sponsored by Marc & Kathy LeBaron.
Outstanding Arts Organization: Fiendish Plots, an exhibition space co-directed by artists Charley Friedman and Nancy Friedemann, which was recently featured in USA Today.  Sponsored by Davis Design.
Artistic Achievement Award - Performing Arts: Kim Osborne Salistean, a musician and educator who has been a violinist in Lincoln's Symphony Orchestra since 1976 and in the Omaha Symphony since 1980, and who has appeared on many recordings.  Sponsored by K & Z Distributing Company.
Artistic Achievement Award - Visual Arts: Robert Esquivel has had dozens of art shows in local and regional galleries and is also involved in local theatre and music. Sponsored by Joe and Judye Ruffo.
Artistic Achievement Award - Youth: Natalie Leininger, a Lincoln High School student who specializes in mixed-media portraiture and who has won several local art competitions.  Sponsored by FES.
Artistic Achievement Award - Literary Arts: Lucy Adkins and Becky Breed are writers and teachers who co-authored the book "Writing in Community." They have presented numerous workshops.  Sponsored by Commercial Investment Properties.
Gladys Lux Education Award: Robert Henrichs has been the Director of Theatre at Lincoln Southwest High School since its opening in 2002 and has directed three Pinewood Bowl musicals.  Sponsored by the Gladys Lux Foundation.
Legacy of the Arts Award: Joe Ruffo is a visual artist and educator who has served as the Chair of the Art and Art History Department at UNL and who is a former President of the Lincoln Arts Council. Sponsored by Legacy Estates.
Heart of the Arts Award: Eric Stearns is Associate Professor at Doane University who shares his passion for ceramics with students and children throughout Nebraska. Sponsored by Runza® Restaurants.
ArtScene Backstage Award: Kathryn Cover has been a costume designer, props master and director at many local and state theaters for more than 30 years. Sponsored by Susan Stuart.
Benefactor of the Arts Award: Jack and Sally Campbell have supported many arts and humanities organizations in Lincoln and Nebraska. Sponsored by BVH Architecture.
Lincoln Community Foundation Arts for Kids Award: The Girl Scouts artVenture program matches small groups of Girl Scouts with professional artists for a collaborative arts education experience.  Nearly 1,500 Nebraska Girl Scouts and 100 artists were part of the program in 2019.  Sponsored by the Lincoln Community Foundation.
Larry Enersen Urban Design Awards: The City's Urban Design Committee chose the Lumberworks Block (bounded by Canopy, 8th, "O" and "N" streets), the "N" Street Bikeway and the BikeLNK bike share program. Sponsored by The Clark Enersen Partners.
The event will also honor the recipients of the Kimmel Foundation Emerging Artist Awards — visual artist Sophia Kay Ruppert and writer Amy Keller. Each award includes a $1,000 stipend and a two-week residency at the Kimmel Harding Nelson Center for the Arts. The awards are sponsored by the Richard P. Kimmel and Laurine Kimmel Charitable Foundation.
Presenting Sponsors:
Ameritas and Avery Woods.
 
Cocktail Reception Sponsor:
Merrill Lynch Roper Bennett Team
 
Video Sponsors:
Pinnacle Bank, Union Bank & Trust, Farmers Mutual of Nebraska,
Letheby Group RBC Wealth Management
 
Scholarship Sponsors:
Lincoln First Realty and Southeast Community College