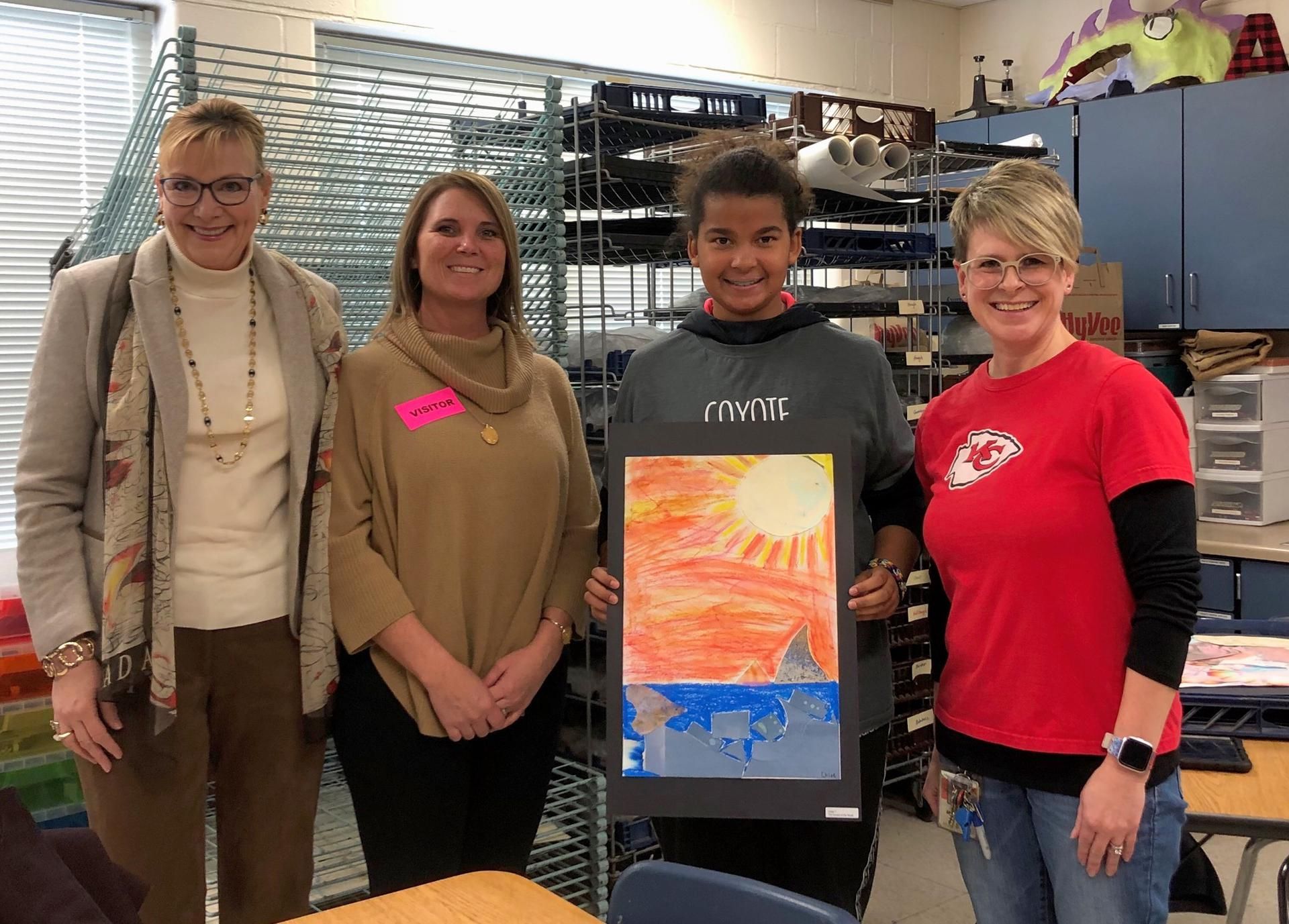 Teacher Spotlight:
Amy Allerheiligen at Calvert Elementary
We work with so many wonderful and dedicated teachers and principals. Every now and then we like to throw a spotlight on one of them, and this month it is art teacher Amy Allerheiligen at Calvert Elementary. Amy worked with visiting UNL scientist Doug Golick this Fall to explore the ways that the scientific method can be applied to art. Fifth graders studied how different chemical solutions and reactions colorize paper, and how patterns reveal information about the liquids and the paper.
We asked Amy a few questions.
1. Tell us about yourself and why you became an art teacher.
This is my 18th year of teaching and my 16th year of teaching art at Calvert Elementary. I am married, have two children and have lived in Lincoln most of my life. Before becoming an art teacher I was a graphic designer for eight years. During that time, I realized that I wanted to share my love of art and art history with children and so I went back to school and became an art teacher. 
2. Why is art so important in children's lives?
Art is so important in children's lives because, oftentimes, the time they spend creating art is the only opportunity they are given to express themselves. Creating art allows a child to learn about themselves and others, and about cultures and customs different than their own. It also give students opportunities for building their self-esteem and growing socially and emotionally. And it's fun!
3. What added learning opportunities have partnerships with the LAC offered you and your students?
Over the past three years, my current 5th grade students have had the privilege of working with a visiting artist in 3rd grade, another visiting artist in 4th grade and they worked with a visiting scientist this past fall. Having these experts come into the classroom has given them positive role models to look up to, has shown them that artists and scientists are real people with real jobs that live and work right here in Lincoln. Having a more formal art show each year has also given them the opportunity to talk about their art and to display their art on a level similar to a professional artist.
4. Do you have a favorite recollection from an LAC residency?
Each residency was so unique that I don't really have one favorite recollection from that time in my classroom. I would have to say that my favorite time each year was during the art show. Each student's work was digitally connected, through an app, to a video of each student talking about their artwork. Seeing the looks of surprise and wonder from guests when they would watch a student's video was always wonderful, and the pride that the students and guests displayed made my heart full every time. 
Thank you Amy for all you do!