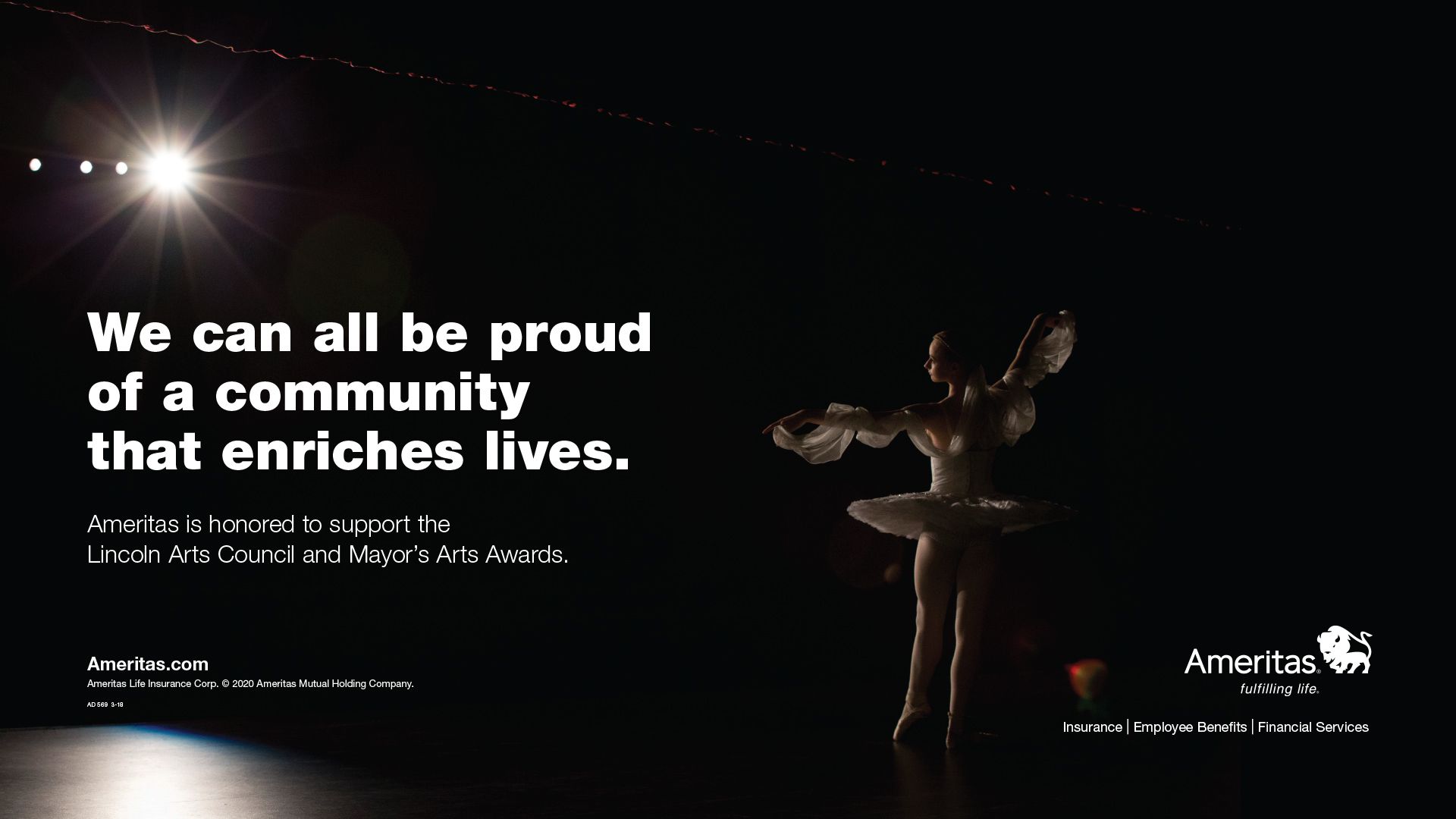 The Lincoln Arts Council could not carry out our mission of championing the arts, connecting people, changing lives without the support of corporate partners like Ameritas.
Although Ameritas has 2,500 employees and 4.5 million customers across the U.S., Lincoln remains their hometown and the site of their corporate headquarters, as it has been for 133 years. Those relationships run deep – 1,100 Ameritas associates help provide services to one in three Lincolnites.
And for more than two decades the company has supported the Lincoln Arts Council. "The opportunity to help foster a beautiful, creative community means so much to Ameritas," says Liz Ring Carlson, Vice President for Corporate Communications and Community Relations. "A love of the arts runs deep here, and we're huge fans of anyone who helps make it all happen." Liz goes on to say "the Lincoln Arts Council has one of those vitally important roles in our community, enriching our culture, boosting our economy and improving the quality of life. They help create an environment that makes our job easier, as we ask talented professionals to build their lives here in Lincoln. The Council's work aligns with our brand, and with the Ameritas mission of fulfilling life."
Thank you Ameritas for your long-standing support of the Lincoln arts community and the Lincoln Arts Council.
MAYOR'S ARTS AWARDS SPONSORS:
Presenting Sponsors:
Ameritas and Avery Woods
Cocktail Reception Sponsor:
Merrill Lynch Roper Bennett Team
Video Sponsors:
Pinnacle Bank, Union Bank & Trust, Farmers Mutual of Nebraska,
Letheby Group RBC Wealth Management
Winner's Reception:
Dahlsten Truck Line, Inc.
Award Sponsors:
Davis Design, Joe and Judye Ruffo, FES, K&Z Distributing Co Inc., Commercial Investment Propoerties, Gladys Lux Foundation, Legacy Retirement Communities, Runza Restaurants, Marc and Kathy LeBaron, BVH Architecture, Lincoln Community Foundation, The Clark Enersen Partners, Richard P. and Laurine Kimmel Charitable Foundation, Doug and Mary Campbell, Susan Stuart.
Scholarship Sponsors:
Lincoln First Realty and Southeast Community College