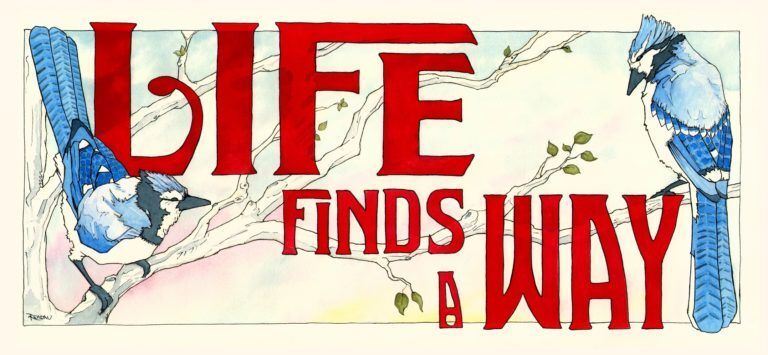 2019 Lincoln Arts Festival Emerging Artist Danny Reneau's Artwork Chosen for Lincoln Billboard Art Project
When fellow artist and friend Tom Sullivan sent 2019 Lincoln Arts Festival Emerging Artist Danny Reneau a link to the Lincoln Billboard Art Project about a week before it was due, he was already thinking about making a sign for his front yard just to bring color and encouragement to his neighbors. So, he had already been in the mindset to make something similar. "But having the opportunity to instead create a sign to encourage our city is really incredible and I'm thankful," says Reneau.
The Lincoln Billboard Art Project was created to unite, support, inspire, and bring joy and healing to our community, and provide financial support to local artists during the pandemic, through a privately supported community art project. Forty-two artwork submissions were received by Lincoln artists and ten works, including Danny's were selected for billboard presentation. Selection preference was given to artists whose income and work have been immediately impacted by the pandemic. Additional criteria included the artwork's ability to unite, support, and inspire the community, its suitability to the billboard format, and its creative use of imagery and text.
"When thinking of what I could say to help give our community hope I could only reassure myself that life would somehow find a way to move on, to move past this horrible time in our human history," said Reneau. "I hope people here in Lincoln will also find the work hopeful, a reminder that there will be a tomorrow, that life will find a way."
Having his art chosen as one of the 10 billboards is a real honor he says, but it really says a lot about our community. During these unprecedented times, the city chose to show support and encouragement through the arts. "I don't think that happens just anywhere," says Reneau. "It's a testament to our city and it's people. I'm just grateful I get to be a part of it."
Reneau also believes that as we turn our attention to pressing social issues within our community it's important to remember that change and growth is a part of life. "We have to fight for change, we have to fight for growth within our community," he says. "When we do that, we are giving life the opportunity to be beautiful."
You can find Reneau's billboard "Life Finds a Way" at 44th and Cornhusker Highway facing west.