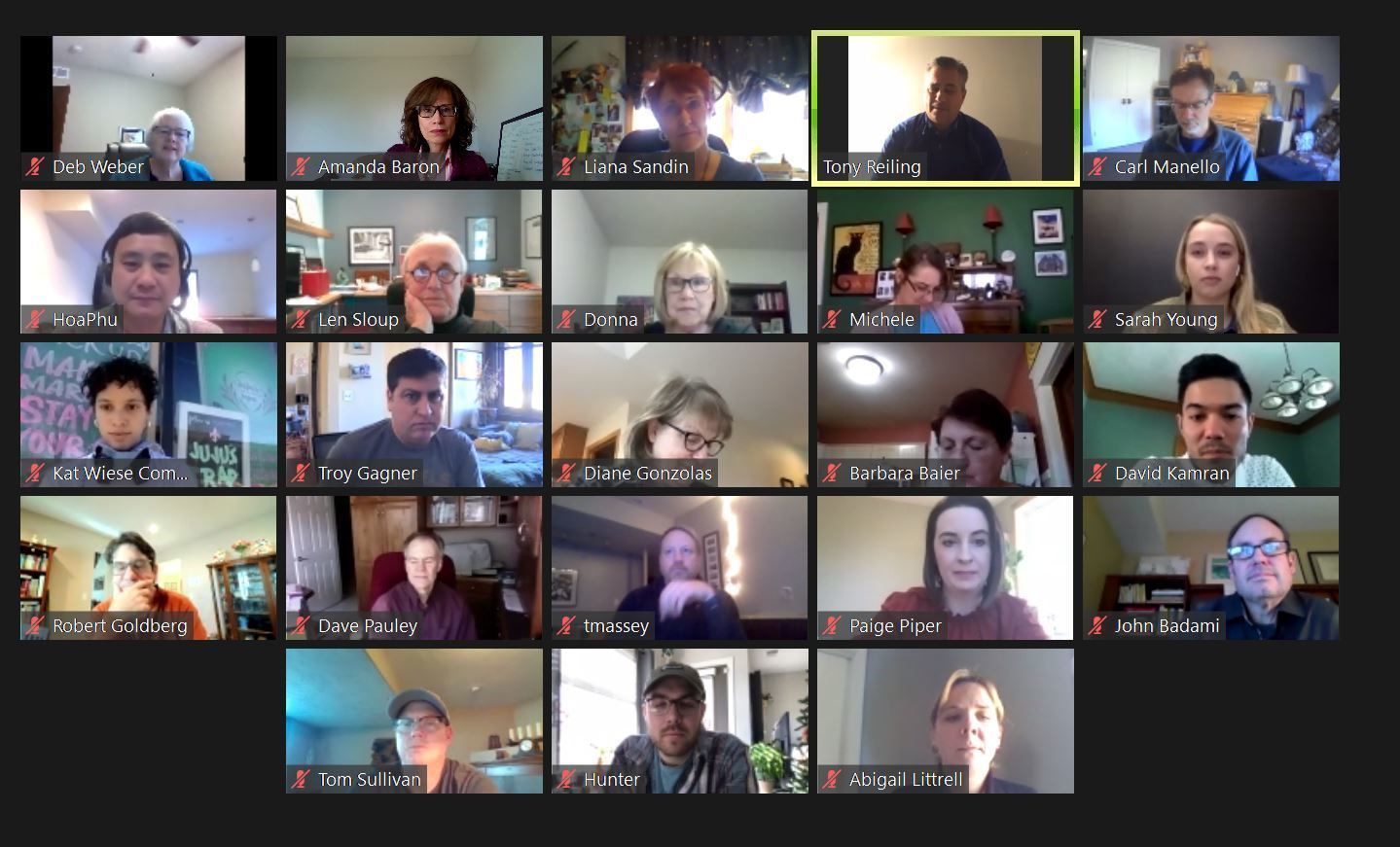 LAC welcomed seven new board members this month. Creative, diverse and filled with passion for the work of LAC,  they're already working with colleagues to take us to new heights. Please welcome them!
Kat Wiese is an artist and community arts organizer with South of Downtown Community Development Organization. Kat has organized dozens of public art projects in Lincoln, both personally and through her work with South of Downtown. Most recently, Kat worked with local artist David Manzanares to fundraise and organize for a two story mural at the corner of 11th and B St celebrating the lives of the deceased loved ones of those on the block with imagery of monarch butterflies around and behind the figures.
Liana Sandin is a native of Holdrege, Nebraska, but has lived in Lincoln for many years. She is a Nebraska Wesleyan University Music graduate. Liana is the President of The Pearle Francis Finigan Foundation. Her devotion to the arts has brought her and the community many benefits.
David Kamran is a music teacher and freelance clarinetist who performs throughout southeast Nebraska. A native of the Seattle, WA area, David is also a strong advocate for local arts initiatives and believes the arts can help build the community. David is an instructor at both Southeast Community College and Western Iowa Community College.
Paige Piper serves as the Executive Director of the Child Advocacy Center, a nonprofit organization that provides forensic interviews, medical evaluations and on-going advocacy for child victims of abuse. Paige has a Bachelor of Arts in Communication from Nebraska Wesleyan University, where she recently became an adjunct professor. She is connected to the arts by her lifelong love of dance. She is active in the dance community as a high school coach and former instructor. Paige and her husband, Adam, love spending time with their dogs and traveling in their free time. 
HoaPhu Tran  migrated from Vietnam to Lincoln Nebraska in 1995 and has been in Lincoln ever since. He received his Ph.D. in economics from UNL in 2011 and is currently working at the Nebraska Department of Revenue as an Economist. He and his wife have two 6 years old children and they are both in first grade at Kahoa Elementary School. HoaPhu says 'I am so thankful for the opportunity to work with the Lincoln Arts Council and hope that I can help in some way to encourage and bring the arts to many more kids in Lincoln, especially those with limited resources.'
Max Rodenburg is a partner at the law firm of Rembolt Ludtke LLP, where he works in the areas of business services and estate planning. As a 3rd generation Lincolnite, he is extremely passionate about the Lincoln community and has served on numerous boards and committees – most recently co-chairing the LPS School Bond initiative which passed in February of 2020. Max's interest in the arts stems from his very musical family. His grandmother, Shirley Larson, was a music major at UNL in the 1950s, and she helped set the trend for several generations of professional musicians – including Max's brother, Jack. Max is especially passionate about making the arts more accessible to youth in Lincoln.
Sarah Young has enjoyed the arts since she was young, but her time in the art department at Nebraska Wesleyan University really brought a much clearer comprehension and appreciation of the arts . Coincidentally, one of the many opportunities she was afforded during her time at NWU was to work directly with the Lincoln Arts Council via a research methods course.  Currently, she is the Creative Strategist for studio951 architects.