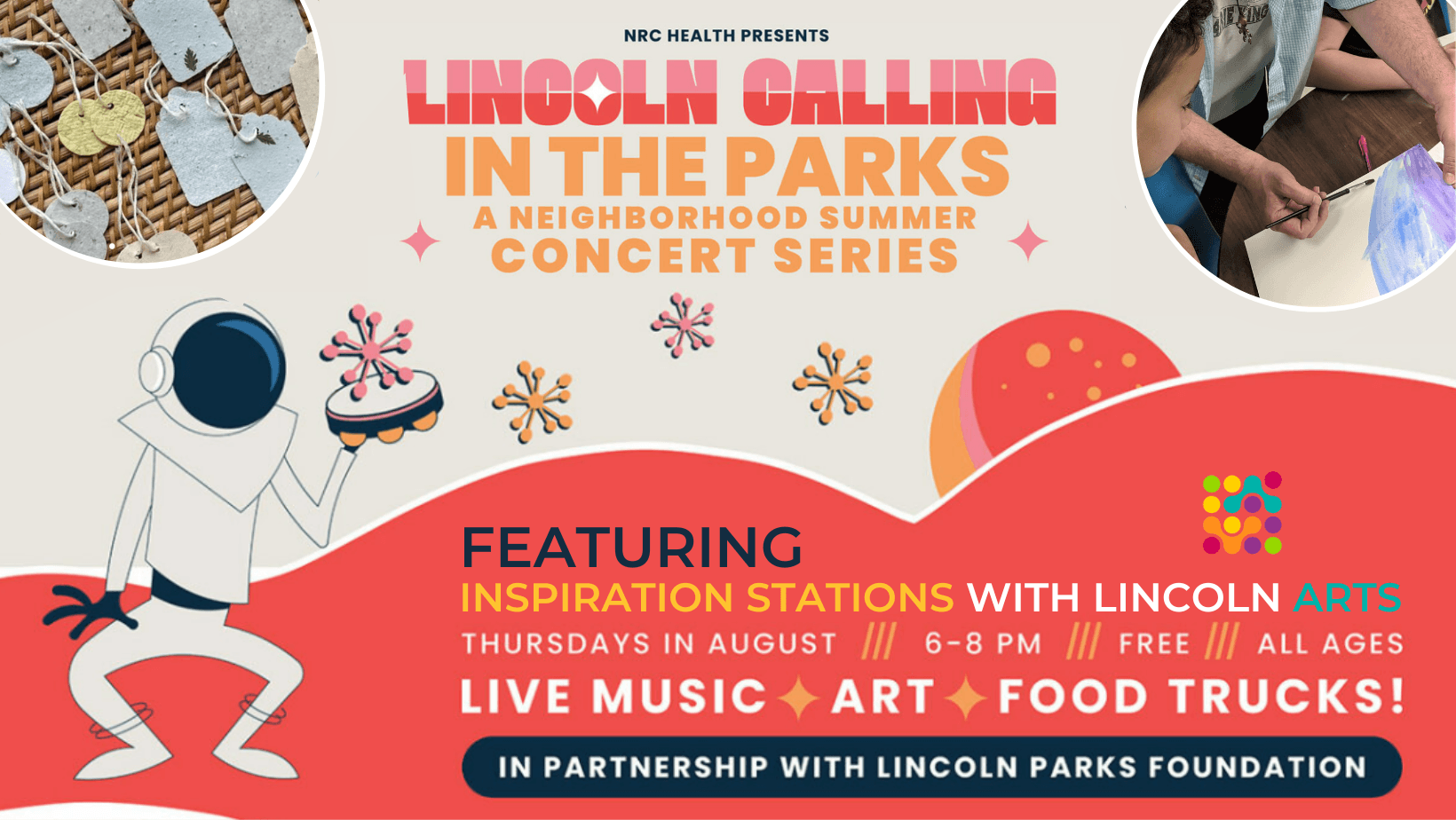 If you didn't get to check out the many art demonstrations and interactive activities at our annual Lincoln Arts Festival this summer, now is your chance! As part of the Lincoln Calling In the Parks concert series, Lincoln Arts is offering arts activities and demonstrations to attendees at each park concert for the month of August. Every week, we'll be exploring a new art medium by having a local artist demonstrate their techniques. Participants can get pointers, find inspiration, and ask all the questions with at Lincoln Arts' "Inspiration Stations"—every Thursday in August, from 6-8 p.m.
August 11 – Acrylic Pouring with Rebecca Lovelace
Tierra Briarhurst Park | 27th Street & Tierra Drive
Using acrylic paint mixed with water and Floetrol, Rebecca Lovelace will be demonstrating the techniques involved in this very meditative art medium.  Watch as the artist thins the paint allowing it to flow across the canvas, using different methods to shape each colors unique pathway. See how the colors interact, some rising higher than others and some creating beautiful cells. With no two pieces ever the same, learn how relaxing creativity can be! 
August 18 – Paper Making with Hannah Demma 
Havelock Park | 64th & Havelock Streets
Hannah Demma is a celebrated Lincoln artist who is known for "examining the intersection of imaginative and the biological" with her mixed-media art. Watch as Hannah creates the delicate paper textures you see in her pieces and observe how an elaborate process can still be cost-effective. Learn how to explore the world as a creative resource from an artist guide who does it professionally! 
August 25 – Relief Prints with Alyssa Kobza
Peter Pan Park | 33rd & Vine Streets
Alyssa Kobza will be demonstrating the process of relief printmaking by carving, inking, and hand printing block matrices. Lithographic prints will be on display to illustrate the expansive mark making ability of litho. Kobza is a printmaker with a BFA from the University of Nebraska, Lincoln. Trained as a collaborative lithographer at the Tamarind Institute, her desire is to share the wonders of lithography with her community. 
Learn more about Lincoln Calling In the Parks here!