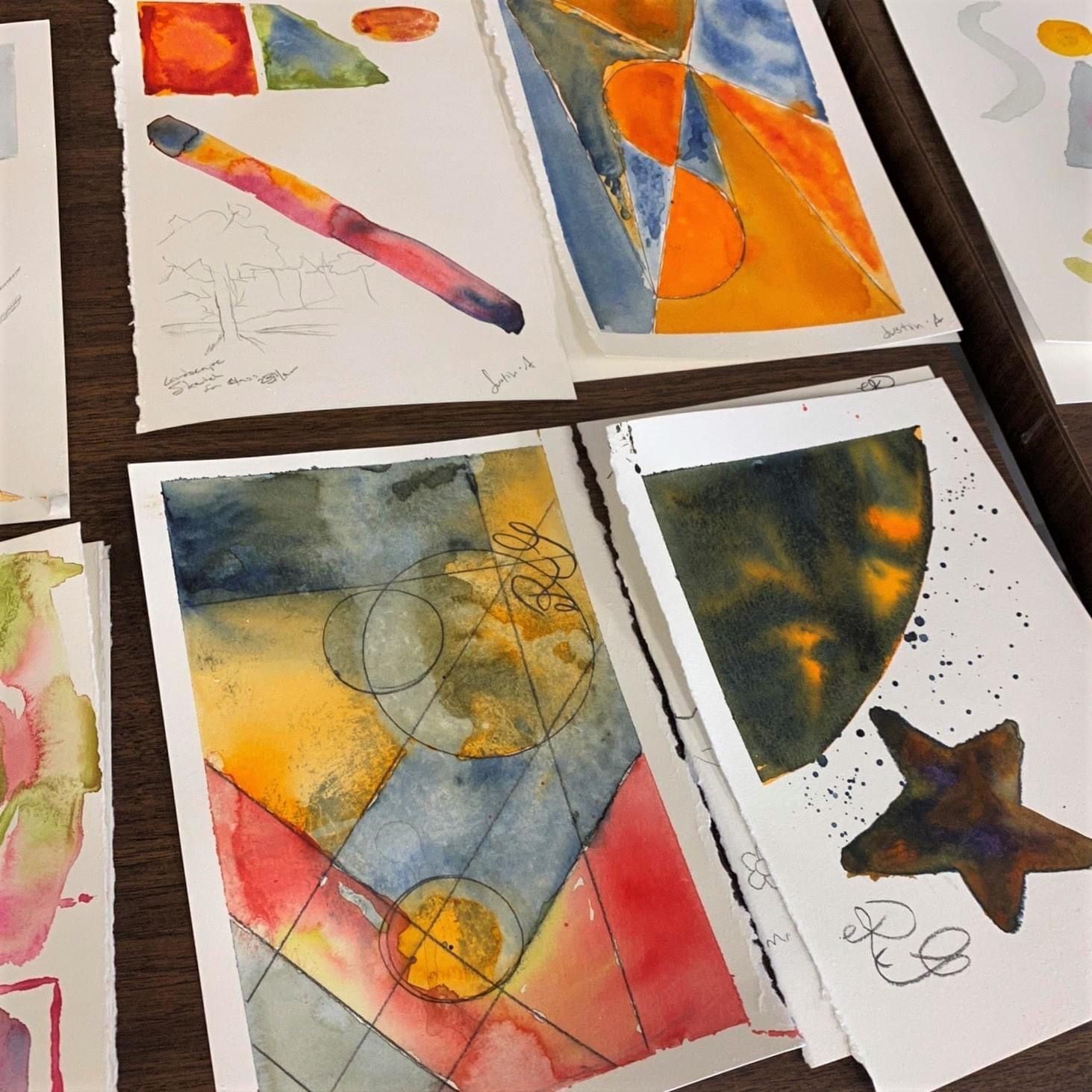 2023 LAC upstArt Grant Recipients
Lincoln Arts Council Names Recipients of Expanded Grants Program
The Lincoln Arts Council (LAC) has announced the recipients of its 2023 upstArt Grants Program. Per the expansion of the program, upstArt Grants are awarded to arts organizations who provide programming to under-resourced populations, as well as non-arts focused social service organizations who seek to incorporate the arts into their assistive services.
The expansion of upstArt Grants Program prioritizes funding for projects that align with the goals of LAC's upstArt Program, which is to offer the arts therapeutically to the populations that need it most. Funding for the grants program is made possible by the Ken Good Beautification Fund in honor of Good's lifelong vision for a future filled with beauty.
A total of $40,000 in grant funding were awarded to the following 18 organizations and projects that sought to use the arts to better the lives of those in need.
2023 Recipients
Arc of Lincoln: Awarded $2,500
In collaboration with local artists, the Arc of Lincoln will provide monthly art and social experiences for individuals with intellectual and developmental disabilities as well as their parents, siblings, and caregivers, through their Come Together and Friendly Faces programs. These initiatives will engage participants in enriching art endeavors and social networking. Individuals with disabilities and their siblings will learn, create, discuss, display, and/or perform art.

Art Bus LNK: Awarded $1,500
In the spring of 2023, Art Bus LNK will partner with Vital Services, a Lincoln-based organization that prioritizes helping people with developmental disabilities learn life skills. This collaborative project will allow Art Bus LNK to provide free, accessible community programming to this group through their mobile art studio.

Asian Community & Cultural Center: Awarded $2,500
Untold Migrant Stories is a digital storytelling program for refugee and immigrant youth in Lincoln that encourages students to document their lived experiences and share them with the public through community showcase events. Through this project, students learn photography and video editing skills to document a story that is important to them or someone in their community and share their completed projects with others.

Capital Jazz Society: Awarded $2,500
Capital Jazz Society will provide local and visiting jazz musicians and ensembles of all ages with a performance venue in Lincoln's Storm Cellar as part of the Society's Monday Night Big Band project. Through this concert series, student and adolescent musicians connect with composers, arrangers, and seasoned professional musicians. Together, they enjoy the opportunities to learn from and support one another.

Civic Nebraska: Awarded $2,500
With the support of Lincoln Arts, Civic Nebraska and the LUX Center for the Arts, Civic Nebraska will create community-led art installations in the University Place neighborhood. Through this project, facilitators will match community residents to artists to create art installations that will be displayed in yards, small businesses, and more, with a vision of strengthening social bonds in the neighborhood.

Eastmont Foundation: Awarded $2,500
The Eastmont Foundation will encourage two generations to learn from one another by using the visual arts to convey a message of how art "bridges the gap" between generations. Middle school art students will interview Eastmont's senior residents about their experiences in youth and create works of art that convey those experiences. Upon the project's completion, the created works will be displayed at both Eastmont Towers and a public location chosen by Lincoln Public Schools.

ECHO Collective: Awarded $2,500
ECHO Collective offers three ongoing creative circles and four 8-week art courses on quilting, bead weaving, and textile weaving to refugee and immigrant women. Through this programming, participating women can spend time bonding with one another, building a sense of community, and creating.

F Street Church: Awarded $2,500
On the second Tuesday of each month in 2023, F Street Church will host residents of Center Pointe Residential Rehab for an art-focused outing. At the church, residents receive supplies and instruction to craft or create art projects, such as drawing, painting, or tie-dying. This outing also provides Center Pointe's residents with the opportunities to build connections with the church's community and one another.

Flatwater Shakespeare Company: Awarded $750
Flatwater Shakespeare Company will bring free Shakespeare productions to Lincoln parks through Short Shakes:  75-minute, family-friendly productions with no intermission. During the summer of 2023, five performances will be offered in five Lincoln Parks, including Belmont Park, Cooper Park, Havelock Park, Henry Park, and Trago Park.

Lincoln Calling: Awarded $2,500
Lincoln Calling's annual fall festival is a celebration of arts that embraces discovery, bringing in nearly 100 bands across eight stages. In fall 2023, Lincoln Calling's festival will showcase performers, artists, and speakers from diverse backgrounds to elevate underrepresented groups and promote intercultural discussions and, ultimately, engage event attendees with the arts and culture communities of Lincoln.

Lincoln Literacy: Awarded $2,500
FLAIR is a university-designed program that teaches immigrant and refugee children while helping their parents gain English language literacy. Through the program, children of an immigrant or refugee family engage in English language activities, while their parents receive classroom instruction in the same facility. In 2023, Lincoln Literacy will serve approximately 200 children with an arts-enriched FLAIR program, providing participants with opportunities to express themselves and tell stories through 12 art projects throughout the year.

Lincoln Music Teachers Association: Awarded $2,500
The LMTA Music Outreach Program provides low-cost music lessons, instruments and their upkeep, sheet music, and community performance opportunities for up to 50 area limited-resource children. K-12 students must meet Federal Free/Reduced Lunch guidelines.

Lincoln's Symphony Orchestra: Awarded $2,500
For over a decade, Lincoln's Symphony Orchestra (LSO) has partnered with Family Literacy, a program through Lincoln Public Schools serving students and their families in the immigrant and refugee community. Through this partnership, LSO staff visits Family Literacy classes to discuss the concert programs, before providing families with free tickets to attend a concert of their choosing. To promote arts accessibility, LSO will partner with LPS transportation and Star Tran to provide busing for these families wishing to attend a concert.

LUX Center for the Arts: Awarded $2,500
Open Art Saturdays will provide up to 300 diverse and low-income students from three Title 1 schools (Clinton, Hartley, and Huntington elementary schools) with the free opportunity to explore visual art using Montessori-inspired learning activities. During these sessions students will experiment with a variety of artmaking materials, try out new techniques, and learn to express their own creative voice.

Midwest African Museum of Art: Awarded $2,000
The Midwest African Museum of Art will showcase the beauty of African culture in schools and community centers throughout Lincoln by teaching traditional African Drums, dance, music, and storytelling, with a vision of bringing diverse groups together and encouraging respect for the values incorporated within the African tradition.

Mourning Hope: Awarded $2,500
In partnership with The LUX, Mourning Hope will offer four community-based "Art from Our Heart" programs to Lincoln's bereaved children and teens at the Mourning Hope Grief Center in June, July, September, and December 2023. To develop and nurture children's personal growth, grieving youth will be connected with local artists for an expressive media project focused on emotional healing.

NE Brass: Awarded $2,500
Brass Goes to School is an educational outreach program that provides concerts to students in Lincoln Elementary Schools. Nebraska Brass will bring this program to Adams Elementary School, in addition to performing three public concerts throughout Lincoln at South Gate United Methodist Church, Vine Congregational United Church of Christ, and St Paul's United Methodist Church.

Yankee Hill Bells: Awarded $750
Each Monday, residents of Yankee Hill Village will gather to share in community, singing, and ringing chimes in a partnership with Southwood Lutheran Church. Together Yankee Hill residents will build shared experiences, storytelling skills, and an appreciation for the arts and music.