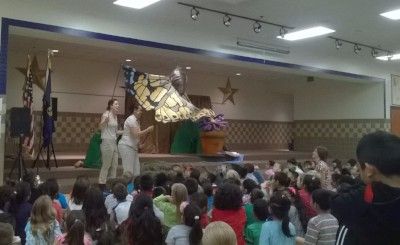 Theatre and Visual Art at Everett Elementary School
Theatre and Visual Art at Everett Elementary School
In September 2016, actors from StoneLion Puppet Theatre in Kansas City visited Everett Elementary School with their show Backyard Buggin'. Huge puppets showcased a variety of bugs, such as earth worms, tree frogs, slugs and more. In addition to the live puppet performance, students also had the opportunity to create their very own turtle puppets in visual arts workshops led by StoneLion.  The interactive play and workshops created a dialogue for students which centered on the issues explored by the puppet show and encouraged them to think about "big picture" concepts.
In connection with this project, the school received a grant from the Environmental Protection Agency, which will help them see their dream of an outdoor classroom come to fruition!
This special program was made possible by the Environmental Protection Agency.
Photo credit: Petra Wahlqvist